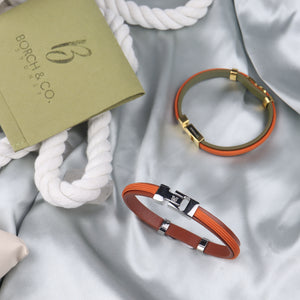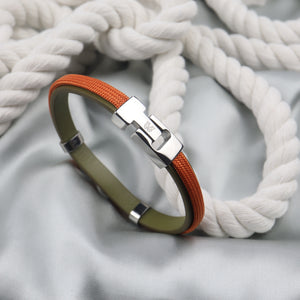 Quality guaranted
Using the highest grade of leather, BORCH & CO. top-full-grain leather is the softest and most comfortable material for the wrist. Also, featuring high quality waterproof nylon woven cord.
Hypoallergenic metal
316L stainless steel with carefully-mirror-polished and 18k gold plated. Hustle free locking system clasp
From the heart of Sydney Australia, which is known for its innovative architecture, there was a remarkable skyscraper called "The Infinity Sydney tower." It represented the perfect blend of boldness and simplicity, symbolizing the endless possibilities that simplicity can offer.
Inspired by this architectural marvel, a bracelet was created. It embodied the same sense of confidence and elegance. The bracelet's clean lines and refined design reflected the wearer's strength and sophistication.
Wearing the Infinite Recto bracelet became a reminder to embrace a life of purpose and abundance while staying humble. It symbolized the power of simplicity and encouraged the wearer to unlock their infinite potential.
Infinite Recto was more than just a design; it became a philosophy of life. It encouraged individuals to tap into their inner strength, pursue their dreams boldly, and find beauty in every moment.